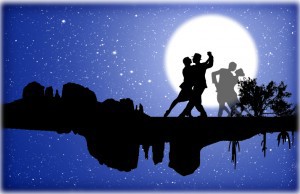 Our lunar goddess is rich with wisdom. She teaches us how to move from darkness into light with the gracefulness of a ballroom dance.
We step in, we step out – and we circle back around again.
Looking up at the night sky during a first quarter lunar phase, we see a moon that's half lit. It serves as a reminder that there's always more to us than what meets the eye. It sparks a strong sense of curiosity within us.
When we ponder any type of change in our lives, we can choose to look at this moon phase as half light – with lots of room for possibilities and expansion. Or we can look at it as half dark – with lots of space to hide, wondering about the safety of "coming out" and triggering our own vulnerability.
As we look at the brightness of this magnificent lunar object, we can feel a sense of wonderment. There is so much potential in territories not yet explored.
Of course, it's only natural to wonder what craters or bumpy roads may lay ahead as the moon slowly reveals herself – and as we slowly reveal our many layers.
The first quarter moon signals the balance between light and dark. It serves as a breakthrough point between our potential and our tendency to hold back (out of doubt or fear). Obstacles to new insights that block our desires to move forward will show themselves now – and feelings of fear, doubt, guilt or resentment may emerge.
But the power of potential has the ability to overcome any thoughts that may keep us from moving ahead.
If we can apply the moon's half-light metaphor to our own journey of self-discovery, we are giving ourselves permission to move ahead in this exploration of new frontiers – with a trust that we will indeed overcome any obstacles that may block our path.
As you contemplate a new beginning in your life and the shifts that are needed to support it, both internally and externally – what possibilities do you see for yourself, if you look at it from a "moon half-light" perspective?
Using a journaling technique called "captured moment" – can you recall a time in your life when you made a decision, not based on your own needs and desires, but based on the wishes or needs of someone else?
Imagine a camera snapping that moment in time – a photograph that will forever be embedded in your mind. It captures the emotion, the sights, the sounds, the smells – everything that took place in that moment when your life took a different turn in a direction that you felt totally unprepared for – and quite possibly didn't want.
Take a few minutes to describe that moment in time and how it affected your life.
Then with the gift of hindsight, take some time to ponder what you would have done differently had you known what the outcome might have been.
And what wisdom did you gain as a result of following the direction you took?
These are the types of rich questions that we explore here at Moonlight Muse Media through a variety of creative and innovative programs.
If you're feeling called to explore the depth of your own potential and how to bring it from darkness into light, please join me for a unique and rich Blue Moon Legacy Retreat – where we'll tap into your authentic gifts and begin the manifestation process. For more information, please click on the blue link above.
Here's to the beauty of dancing between darkness and light!