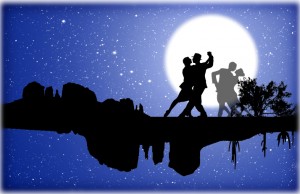 Our lunar goddess is rich with wisdom. Through her phases, she teaches us how to move from darkness into light with the gracefulness of a ballroom dance.
We step in, we step out – and we circle back around again. And with each step of this dance, we gain a new experience – a new awareness.
What do we receive in darkness that we may not see in the light? And how does the light magnify what's tucked away in darkness?
This is where the gift of contrast comes in – and how the wisdom of the moon serves as a wonderful teacher.
Imagine looking up at the night sky during a first quarter lunar phase – and seeing a moon that's half lit. It serves as a reminder that there's always more to us than what meets the eye. It sparks a strong sense of curiosity within us.
When we ponder any type of change in our lives, we can choose to look at this moon phase as half light – with lots of room for possibilities and expansion. Or we can look at it as half dark – with lots of space to hide, wondering about the safety of "coming out" and triggering our own vulnerability.
Taking in the brightness of this magnificent lunar object, we can feel a sense of wonderment. There is so much potential in territories not yet explored.
The first quarter moon signals the balance between light and dark. It serves as a breakthrough point between our potential and our tendency to hold back because we can't fully see what is really there.
If we can apply the moon's half-light metaphor to our own journey of self-discovery, we are giving ourselves permission to move ahead in this exploration of new frontiers – with a curiosity that inspires a sense of being "open and allowing" – trusting new insights that want to emerge.
It's a bit like combining the game of Life with the game of Clue – and noticing the synchronicities that are being presented on your life path, choosing to follow where they want to lead you.
I share more about this concept – what I like to call "seeing darkness in a whole new light" – in this video interview.
As you contemplate a new beginning in your life and the shifts that are needed to support it, both internally and externally – what possibilities do you see for yourself when you look at it from a "moon half-light" perspective? And what new discoveries could you make by exploring what might be lurking on the darker side?
These are the types of rich questions that we'll be exploring in my brand-new Moonlight Journaling Retreat – where we'll be dabbling in the art of photo journaling and playing with contrasts between light and dark as we journey through the moon phases during a real-time 28-day lunar cycle, but with a bit of a twist as we begin and end with a full moon phase (the latter being an actual blue moon phase).
We'll be using photographs taken in the exact same spot – in both light and dark, in color and black/white – noticing what messages want to be revealed in both sets.
What do we see in darkness that we don't see in the light? What wants to be noticed in a color photograph that may not be seen in black and white? And how do both sets of images inspire insight?
We'll be working with selected photographs – and you'll be invited to take your own.
Come join a beautiful and very sacred circle of creative souls – and dance with your inner wisdom as you explore the various aspects of yourself, your life, and your relationships with others – through the art of photo journal writing.
Our circle opens on Monday, January 1st – just in time for the first full moon of the new year – and will run through the month of January when we end with a second full moon on the 31st (what is commonly referred to as a blue moon).
To register, please click on the link below and mark your calendar for a month full of rich and insightful self-discovery inspired by the art of photo journaling and the magic of a blue moon phase.
Here's to dancing between darkness and light – as we kickstart the new year and settle into the magnitude of your blue moon potential!