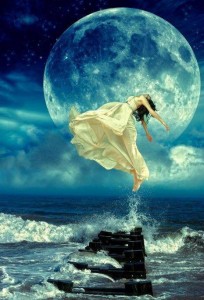 "It's never too late to be what you might have been." ~ George Eliot
Next week, we move into a powerful New Moon phase with the potential to create a new beginning that sparks your authentic voice – giving you the courage to finally speak up for what it is you truly desire. This phase also gives you an opportunity to clear old patterns that have kept you stuck in silence, holding on to the belief that what you have to say isn't important and that no one really cares.
Let's imagine for a moment that your life hits a bumpy road – and you encounter turbulence. ~ How do you handle it?
Do you go around the turbulence, pretending like it's not there – turning a blind eye and looking the other way?
Do you turn around and go back, giving into fear and quite possibly some form of regret or resentment?
Do you go through the turbulence with a determination to make it through – taking risks by picking up a few hard knocks (life lessons) along the way?
As a life purpose alchemist, I've worked with many women over the past five years – and one of the things I've noticed is how much "old programming" controls one's courage in life.
Take a moment to think about your life story.
How has it played out – up to this point?
Were you encouraged to take risks?
Or were you told to "play it safe" – taking the comfortable, practical choice?
Was your voice heard and received with love and respect – making you feel like your opinions, your thoughts, your emotions really mattered?
Or were you silenced – making you feel like you weren't worthy of having an opinion, a thought, or an emotion?
Now take a moment to think about the history of your life story.
What messages did you receive around courage?
What patterns do you have in your life – right now – that prevent you from fully stepping into YOUR courage?
During this New Moon in Gemini, I invite you to Step into Your Own Voice – and give yourself the gift of courage. ~ Allow yourself to Speak Up and Be Heard.
Gemini is the astrological sign of communication – the sign that rules voice. It's a perfect time to create a new beginning that honors YOUR AUTHENTIC VOICE.
What does that voice REALLY want to say?
* It's time to give birth to your dreams.
* It's time to step into "what it is you might have been."
* It's time to create YOUR new beginning – and have YOUR voice heard!
Join me for a complimentary call, "Are You Being Heard? – Embracing the Power of Your Own Authentic Voice" on Wednesday, May 28, 2014 at noon (eastern) – and step into the energy of the Gemini New Moon. During our time together, I'll be sharing six different ways you can spark your inner courage and share YOUR AUTHENTIC VOICE.
To register for this empowering call, enter your name and e-mail address in the box below – and you'll receive all the details.
I'll look forward to connecting with you next week – as we begin to unleash your authentic voice! 🙂