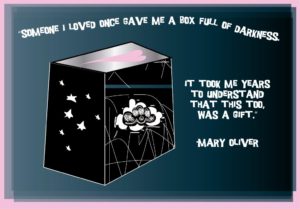 With the sudden passing of actor and comedian, Robin Williams – depression has once again taken the spotlight. This time, however, it's being met with a compassion and empathy that I haven't seen before.
Because Williams lived his life through a lens of humor and laughter – and came across as an approachable and joyful beam of light, many took his passing quite personally, as if they'd known him on an intimate level. And in many ways, this was true – as the characters he played on television and in films represented the types of people that we could all identify with in one way or another. Even in his personal interviews with talk show hosts and reporters, Williams conveyed an energy that was instantly attractive. One couldn't help but be engaged by his warm and humble persona.
He was a real-life example of "the nice guy next door."
So when the news began to spread about his death, and particularly the way in which he died, people were genuinely shocked.
How could a man who was so full of light and laughter, and who was so well-liked by many, end his own life?
This question sparked a curiosity that far-exceeded the stigma of depression. There was a true thirst for answers, being filtered through a deep sense of compassion.
Many times, when depression makes its way to society's living rooms and water coolers, it's greeted with a myriad of misunderstandings and puzzled reactions – with proposed solutions that involve the latest medications and therapeutic methods.
But not this time.
This time, the conversation is different. This time, the doors of truth and understanding are opening. This time, there's an element of compassion and connection that feels almost angelic.
So is it possible, in his last moments of life, that Robin Williams took on the role of spiritual messenger with the intention of bringing light to a very dark and taboo subject? Is it possible that this was part of his bigger purpose? Is it possible, on a spiritual level, that the way he chose to exit this lifetime was part of his spiritual contract – and done in a way that he knew would bring more awareness to a conversation that has been constantly shoved in the closet?
While living, Robin Williams created a lovable and trustworthy persona which, upon his death, triggered empathy, compassion, and a deep desire to understand the reasons behind his depression and suicide. So it's quite possible that he agreed, on a spiritual level, to play the role of "teacher" upon his exit – shedding light on a painful truth that up until now hasn't moved beyond a whisper, "Depression is the silent killer."
And in bringing this whisper to a soft roar, it's quite possible that his exit was one of joy for having accomplished this very big and difficult mission.
It's quite possible that Robin Williams has given us all a gift of seeing the light in life's darkest moments. And in this sense, it brings to our awareness that everything has meaning – IF we choose to see it.
So what are the gifts in the darker moments of your life?
This is a great question to ponder as we move out of the full moon phase – and toward another new moon beginning.
As poet Mary Oliver once wrote, "Someone I loved once gave me a box full of darkness. It took me years to understand that this, too, was a gift."