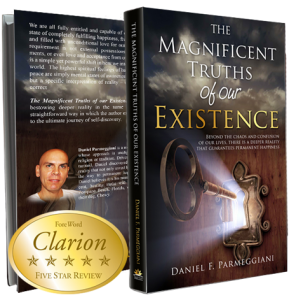 Today, I have the great pleasure of being the host on Day 3 of Daniel Parmeggiani's Virtual Blog Tour, whose new book, The Magnificent Truths of Our Existence, is currently celebrating its official launch.
Daniel Parmeggiani is a modern-day spiritual teacher whose approach is unaligned with any particular religion or tradition. Driven by intense psychological turmoil when he was younger, Daniel discovered within himself a deeper reality that he says not only saved his life, but also showed him the way to permanent happiness and inner peace. Those revelations became the foundation of his book, The Magnificent Truths of Our Existence.
Yesterday, Daniel visited Mali Apple's 'The Soulmate Experience' blog at http://www.thesoulmateexperience.com/blog/, where they talked about how to increase our ability to love. Today, I'd like to share with you a recent interview I had with Daniel where I asked him a few questions about the importance of unconditional acceptance, and the four questions we should ask ourselves when we make choices.
***INTERVIEW***
TINA: I often talk about the "ripple effect" of a person when they're living "on purpose" versus "off purpose." How can you relate this to the 10 magnificent truths of our existence? How do these truths affect the impact of our unique ripple in the world?
DANIEL:  Awareness of the truth about ourselves will empower you to live your life on purpose and in complete alignment with your true needs and deepest longings. The truths I write about in my book explain why our true nature is absolutely innocent and why we are all equal as the flawless spiritual beings that we actually are. Who we really are is magnificent, and the more we realize this, the more we can shed our guilt, shame, and everything else that holds us back from living completely fulfilling lives filled with joy and positive energy that ripples out and uplifts the world.
TINA: Unconditional self-acceptance can inspire greatness within a person – and for those around them. Could you shed light on why this is true? And for someone trying to find this within themselves, what is the key to unconditional self-acceptance?
DANIEL:  When you accept and love yourself unconditionally, you are free from the constraints of self-doubt and fear of failure. Your self-esteem is no longer tied to results, so you relax and perform to your full potential in whatever you do. You also live life to the fullest and express yourself freely because your self-love is independent of the opinion of others. Finally, when you truly love yourself, you love others as well because you recognize that we are all the same.
The key to unconditional self-acceptance is to become aware of your true identity, which is beyond judgment and therefore unaffected by anything that happens in this temporary setting. We are actually born without any need to prove our own worth. This need only arises after infancy once we learn to judge ourselves and each other. So in reality, unconditional self-acceptance is a return to our natural, original state where we don't have the urge to constantly judge and label ourselves. It is more a matter of unlearning negative concepts and beliefs about ourselves than learning anything new.
When you think about it, you see that we all spend most of our time and energy trying to prove ourselves worthy of our own love. Most of our goals, pursuits and obsessions are driven by the hope that we will become something we can be proud of. We long to become someone that we can like and finally embrace. This, of course, is conditional self-acceptance and it is an endless and needless struggle. Unconditional self-acceptance transcends the struggle because it is based on the simple realization of what we already are.
TINA: I strongly believe that we're creating a legacy each and every day with the choices we make. Could you share the four questions one should ask themselves when making any type of choice?
DANIEL:  In my book, I talk about the four questions we always ask, consciously or subconsciously, when making any choice. This is an automatic process that we all share and which is the elemental thing that makes us equal. The questions are:
What would be least painful?
What would be most pleasurable?
Does the immediate pleasure justify the potential future pain?
Does the potential reward of future pleasure justify the immediate pain?
If you think about it, these questions determine all our choices, from the smallest and least significant to the most life changing. At the most basic level, we are always trying to maximize our well-being, and we do so by doing our best to avoid pain and gain pleasure. At a deeper level, what we are really seeking is a state of deep, lasting and fulfilling happiness, peace and love.
In light of this, when it comes to our legacy, when we make our decisions, we need to become more conscious that the suffering of others is also our own suffering. We are all connected, equal, and ultimately One. Therefore although we will always continue to be ruled by the above four questions, we can increase our awareness of the real impact and ripple effect of our actions and decisions, and learn to choose more wisely.
*** END OF INTERVIEW***
I hope you enjoyed this brief interview with Daniel Parmeggiani, author of The Magnificent Truths of Our Existence.
In Daniel's words, "this book provides deep spiritual insight about who we really are, the cause of our suffering, and how to transform our lives."
If you'd like to find out more about Daniel's approach to achieving the highest spiritual aspirations of happiness, love, and inner peace, pick up a copy of The Magnificent Truths of Our Existence at:
http://www.MagnificentTruths.com/order
When you buy the book now during the official launch, you'll receive dozens of beautiful free gifts from Daniel and his friends and colleagues. It's their way of saying 'thank you for supporting Daniel in this important spiritual work.
And be sure to follow Daniel tomorrow on the next stop of his Virtual Blog Tour, when he'll be visiting Callie Carling's 'CreaTEAvity' blog at http://createavity.com/#blog, where they'll be talking about the antidote to shame, and how we can tap into the power of our innocent nature.