Welcome to the Winter Solstice!
Today marks the longest night of the year as nature gives us an extended period of darkness.
Mother Nature knows that a certain amount of darkness is always needed in order to see – and to truly appreciate – the "light" of possibility.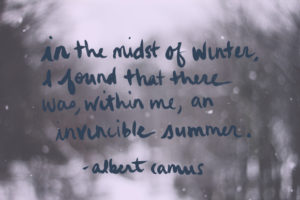 On this day of the Winter Solstice, take some time to connect with your inner light – that authentic voice inside of you who has the potential to show up in a big way.
How bright is your inner light?
Let's give her a name. Take a moment and close your eyes – and think about the potential of your inner light when she is shining brightly. What name captures the energy of this essence?
Don't over think the name. Just receive what comes to mind when you think of the brightness of her essence.
Now think about her light right now – in this very moment. How is she shining within you?
Is she on full beam? Is she dim? Is she flickering? Or does she feel dark?
Be completely honest with yourself.
Take some time to ponder these questions, giving your inner light a name and allowing yourself to connect with her essence.
What is her potential if you were to give her permission to live out loud?
And is this how she is living now?
Allow yourself to FEEL the difference in these two energies. Notice any contrasts between darkness and light – as it pertains to your own inner light.
This is the gift of the Winter Solstice!
After you've had an opportunity to connect with the essence of your inner light, take some time to ponder the many wonders of your light.
What magic could you create from being in this space?
As French author and philosopher Albert Camus once noted, "In the midst of winter, I found that there was, within me, an invincible summer."
On this beautiful Winter Solstice day, allow yourself to connect with the light that radiates from within you!