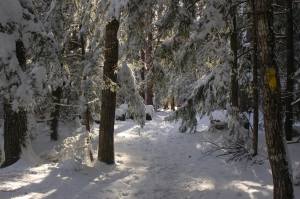 The winter season is a wonderful time to immerse yourself in the creative process!
It brings a rich opportunity to awaken the "creative genius within" by exploring the gifts that are found in nature's darkness. It allows us to reflect on our personal and creative journeys, taking a closer look at who we are – underneath the layers of life.
By looking for the "light" – and knowing that it's there, somewhere, waiting to be discovered – we can reach a place where our personal reflection begins to shed its own light.
It's a time to ponder where we've been on our creative journey, how we got to where we are now – and where to go from here. It's an opportunity to explore new ways of thinking and to prepare for a new path of travel. It also marks an ideal time for connecting with our inner voice and our true heart's desire.
How will your "creative genius" be inspired by the darkness of winter?
What magic will be created within you – as you move through the winter season and into spring?
How will this magic be expressed through your creative work – and brought into springtime's full bloom?
These are great questions to explore in the winter season – a time of rich reflection, introspection, renewal, healing, connection, and a thirst for all that is light.
There are so many gifts wrapped up in the season of winter – with the capacity to uncover the depths of our soul, bringing us closer to our own creative light – both inner and outer.
As world-renowned artist, Vincent Van Gogh once proclaimed, "Let us love winter, for it is the spring of genius."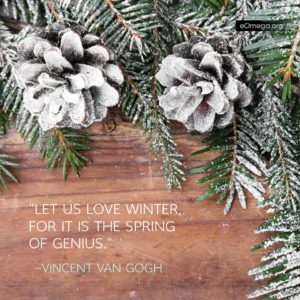 Come join me for a special conversation with one of my favorite creative colleagues, Karen Reinhold during her Awaken Your Creative Genius online retreat – where we'll be discussing the season of winter and how it can help you reclaim your passion, boost your energy, and live in a more inspired way.
You can register for this complimentary retreat by visiting this page: Awaken Your Creative Genius
I'll be joining 20 other creativity experts as we explore a variety of topics related to the creative process and how to inspire our creative genius.
Mother Nature knows that a certain amount of darkness is always needed in order to see – and to truly appreciate – the "light" of possibility.
It's often at the darkest point in any process that you have the insight you need to see your situation from a new perspective. These new insights open the door to new ideas, solutions, and directions.
What new creative insights are waiting for you in the darkness of the winter season?
Come join me and let's find out!