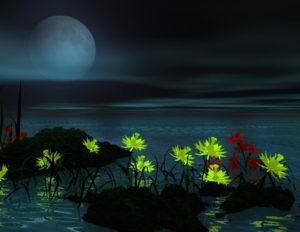 Sometimes when we're "stuck" – and fumbling around in the dark, tripping over our own shadow – the universe makes the movement for us. It picks us up, rattles us around – and puts us somewhere. And it's there, in that place – where we must find a way to "bloom where planted."
It will be there, that we begin the "rooting out" process. And part of this involves rooting out those places where we know we're living out of balance. It's time to kick the dependencies that suck resources, and become more self-sufficient with our energy.
In this week of a super full moon phase – in the astrological sign of Taurus, there's a combining of the intense energy of a Scorpio Sun with the grounding energy of a Taurus Moon.
For many of us, the past month has felt like being in the midst of a breakdown – almost tornado-like with no sense of when (or where) we might be landing.
Because Taurus and Scorpio are both fixed signs, there is a strong energy that stares us in the face, asking us to get a grip. It's time to make the most of what we have. It's time to bloom where we're planted. It's time to be resourceful. It's time to make a decision.
The Scorpio-Taurus storm will give us what we need to conserve our energy – for a time when it'll go farthest and have the biggest impact. It's a great time for decisive cleansing of bad influences, or those that play on our fears or weaknesses.
By cleansing, we are then able to build up our own emotional reservoir for use on more significant things (and more significant people). The Taurus full moon brings us clarity on what (and who) to commit to and how to firm it up.
It's also a time to take stock of our finances, looking at different ways of generating income and assessing what has value. It's a time to commit to our art or craft, giving ourselves permission to jump into it on a much deeper level. It's also a time that allows us to move at a slower pace, if we need to.
Remember, "There's always a breakdown before the breakthrough."
So know that whatever it is, the breakdown is a necessary thing.
It's what provides the space for cleansing – and it's what provides the energy and the insight for the breakthrough.
The tension between Taurus and Scorpio is that of life and death, for Taurus celebrates the return of life while Scorpio releases what has died.
We need to let go of the pain, the insistence on being right, the resentment, the hurt of betrayal. These are the emotions that feed the Shadow. In the end, it is our choices about how we use our unique energies and talents that will make the difference in our lives. And we can't make conscious future choices if we're unconsciously carrying the past.
This Full Moon in Taurus is so potent that we may feel like we're going through a black hole, only to come out somewhere else.
This will be one of the truly sweet full moons of the year, because it has the power to bring you happiness, luck, and surprises. But only if you face what it is that you keep denying, repressing or running away from.
What's waiting for you beyond the breakdown?
If you'd like to dive deep into this question with the support of a wisdom guide, I invite you to join me for a special New Moon Discovery session – where we'll explore the possibilities for a new beginning that's beautifully-timed with the next evolution of you.
In just 75 minutes, you'll get clear on what it is you're ready to release – and what door you're now ready to open.
What wants to emerge? What wants to be born?
To learn more about this powerful experience, please click on the highlighted link above.