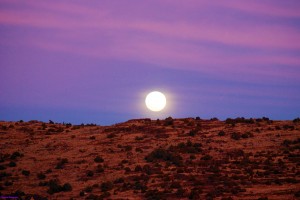 A few years ago, there was an American television commercial that showed a sports utility vehicle driving through a remote mountain scene. And the voice-over said, "You can find yourself in the middle of nowhere – or in the middle of nowhere you can find yourself."
This phrase seems to capture the sentiment of so many people in my life right now – clients, colleagues, friends, even me.
Some are dealing with major life transitions that feel painfully uncomfortable – while others are preparing for new beginnings and fresh starts that involve a sense of unknowingness about the future.
If we take a closer look at the first part of the phrase, "You can find yourself in the middle of nowhere" – we may feel like we're  in the wilderness, far away from the usual landmarks. Our surroundings may feel barren, empty, or uninhabited.
In a sense, there is no "there" there.
And if you take it a step further, you might feel lost and unsure of where to go next – or how to get out of where you are now.
It might feel confusing or a little scary, triggering a fear of the unknown or perhaps a deep sense of loss. And the indecisiveness about how to move beyond this "nowhere" place may feel dark and lonely.
When we look at the second part of the phrase, "or in the middle of nowhere, you can find yourself" – we may feel something totally different.
For example – when you find yourself in the wilderness, you have the opportunity to experience new insights about who you are and where you are going. This option has the energy of a vision quest or a retreat.
Being in this new place in the middle of nowhere is like traveling to a different land. The contrast between you and your life – and this new place – gives you opportunities to make new insights, new perspectives, and new awarenesses. The shift in space and time that happens when you enter a new land, a new frontier, or uncharted territory – allows you to make the leap to a new vision of and for yourself.
This presents a larger question that's worthy of pondering.
Does being in the middle of nowhere trigger feelings of being lost? Or does it trigger a sense of wonder in you?
As we move into another new moon phase, I'm mindful that when one door closes, another one opens.
During a new moon phase, the sky is completely black, other than the surrounding stars. It's the point in every month when the moon takes a retreat and begins to grow again, redoubling her light and reflecting new creative energy on the world.
This phase marks the ideal time for connecting with our inner selves and our heart's desire. By looking for the "light" – and knowing that it's there, somewhere, waiting to be discovered – we can reach a place where our personal reflection begins to shed its own light.
New moons always bring new beginnings that stem from the internal desires we have bubbling just under the surface that are ready to take flight in the outer world. It marks an ideal time to acknowledge anything within us that's been dormant and is now ready for more attention.
As you ponder the various parts of your life that are in need of more understanding, focus, and clarity, allow yourself to feel your way through it.
We often run from the emotional side of things, looking for ways to intellectualize what might be happening in our lives – and then we get spun up in over-analyzing to the point of draining ourselves of our own self-worth.
During this new moon phase, I invite you into an emotional connection with your own intuitive wisdom. Allow her to lead you out of anything that feels dark. By being fully present to your own voice, you'll be able to connect the dots of light that are already present in your life – the ones you're not allowing yourself to see.
Make the most of your "middle of nowhere" moments by:
Giving yourself time and space to be still.
Letting go of your need to know the answer. Shift your emphasis to knowing you don't know right now.
Stimulating your soul – with poems, quotes, books, mediation, deep conversations, and long walks.
Asking yourself new questions, then stopping to listen to the answers.
Sitting in a space of willingness to see new images, hear new ideas, gain new insights, shift your perception.
Recording what you discover, taking your time to allow various layers of insights to come to you.
Use what you discover during this time to rewrite how you see yourself. Sometimes just one insight can shift not only how you see yourself, but how you want to live your life. This new thought could become the kernel of the vision yet to come.
Here's to magical new beginnings that are inspired through the energy of being in the middle of nowhere.