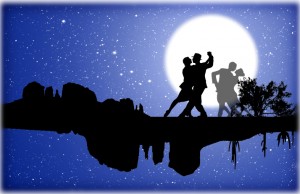 April's full moon in Libra shines a strong moonbeam on balance. It can illuminate what's needed to stay composed and aligned with your moral values, in a time of societal breakdown. The Moon in Libra is opposite the Sun in Aries, inspiring you to be courageous and true to your own sense of destiny.
Imagine being Ginger Rogers – and every synchronicity crossing your path becomes Fred Astaire. You engage in a meaningful dance of "what is" – exploring each dance step and how it can fit into the overall picture of life.
During this Libra moon phase, think "grace in space." If you meet an obstacle or encounter resistance, dance like you expected it to be there.
Libra's skill is knowing just how to receive whatever shows up. The trick is recognizing its beauty, which is all there is to diplomacy and charm.
Any yin and yang tension under a Libra full moon is especially instructive. With as much neutrality as you can muster, examine the feedback loop of offering and receiving. Court the idea that all the support you need lies within, as in a yoga balancing posture.
This full moon energy asks, "Can you keep the peace and your balance at the same time?" ~ Enjoy the ability to dance gracefully around the possibilities.
As the Aries sun dances opposite the Libra moon, you may feel a see-saw effect – which is all about balancing your need to be self-focused, with the need to be responsive to your friends, partners, and family. You can be brave about cutting out whatever throws you off center.
A big question here is how to stay self-focused when so much is pulling on your energy. And a full moon in Libra serves as a reminder that everything in life is a dance of polar opposites that need to be brought into balance.
Libra IS the sign of balance – of looking at both sides of the question, of bringing both sides of an argument into compromise. And this particular full moon asks you to look within yourself and learn to balance the emotional courage of Aries with Libra's desire for peace and beauty.
When you are balancing oppositions, it's important to remember that neither end of the polarity is the correct one. Both sides of the equation are equally useful to you – and it is the balance between them that is important.
Take this opportunity to dance with life's "ebb and flow" – and allow it to gracefully move you across life's dance floor.
You may be surprised by the beauty and serenity that can be found when you're moving "in flow" with the universe!