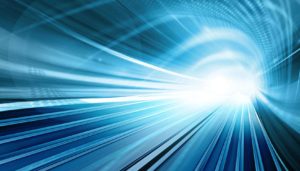 There's a topic that's been weighing heavily on my mind over the past couple of years – and it has to do with society's obsession with speed.
Ever since I began my entrepreneurial journey, I've been told by business coaches and consultants, "People pay for speed."
I've watched companies compete for contracts saying, "We can do it faster."
I've observed consultants and coaches pushing their clients to, "Get it done NOW."
And as a mother of two school-age children, I've noticed this same obsession showing up in the area of education. I've heard countless politicians, analysts, and various experts go on and on about "the race to the top" – where states (and countries) race to get student test scores to the top of the list as quickly as possible.
I've even noticed in the medical field, our tendency to over-prescribe medications, looking for that "quick-fix." No one has the patience anymore for a natural process to work its course. Even pharmacists are speaking out about the influx of prescriptions related to anxiety and depression. Many are saying that it's not uncommon to see one out of every three prescriptions being filled for an anti-depressant medication.
It seems that every where we turn, speed is winning over quality and process.
As a child growing up in the 60s and 70s, I was always told, "Take your time and read through the questions so you can do your best work" – and "Go outside, get some fresh air, clear your mind – and play."
It was these words of wisdom that set the tone of of my work ethic . It's what led me to valuing the quality of life – and honoring the process that it takes to achieve this quality.
As I look at today's world, I'm being led to wonder, what has happened between now and then? When did we all get in a hurry? Why are we all in a rush – and what is the coveted prize if we get there first?
I'm reminded of Mahatma Gandhi's quote, "There is more to life than simply increasing its speed."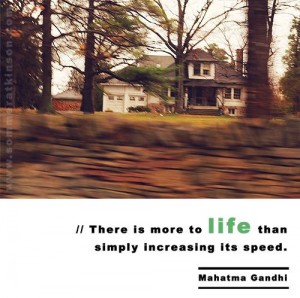 What if we took time to fully enjoy life, each and every experience – rather than run at high speed and live in constant stress?
Ah……such a nice thought! 🙂
In this busy, hurried, fast-paced world – it actually feels really good to slow down, take a deep breath, savor the moment – and ENJOY LIFE!
So how can you hop off the merry-go-round of busyness and life at full speed – and into a more calm state of being?
If you've been feeling overwhelmed and stressed – or anxious or depressed, I'd like to share two complimentary resources that are more holistic in nature and more natural in process.
*********
(1) The first is an invitation to join me for a special dialogue with my colleagues, Ann Farard and Jamie Willett, publishers of Front Burner Mama Magazine on the topic of overwhelm.
Are you feeling overwhelmed with the many things you have on your plate? Are you spinning in a sea of busyness? Are you being controlled by your "to do" list? ~ This rich conversation sheds light on a healthier, more simple approach to overwhelm by giving you three easy ways you can shift from chaos to calm. ~ While the focus of our dialogue pertains to mothers, the tips can be applied by anyone who wants to move out of overwhelm and back in control of their own lives.
To access this complimentary audio recording, click here: 3 Simple Ways to Get Out of Overwhelm
P.S. If you like what you hear during this dialogue, here's an opportunity to go more in depth with these holistic strategies. Plus, there's a really cool bonus! Slowing Down
*********
(2) The second is an invitation to join me as my guest for a unique telesummit being hosted by The Embodied Soul Center. I'll be joined by 14 other mind, body, and spirit practitioners who will be sharing our wisdom, tips, tools, and resources in the powerful training series, "Real Body, Mind, Spirit Solutions to Anxiety and Depression."
I'll be speaking on the topic of maternal depression – and how "journaling by the moonlight" can help support the healing path toward a healthy connection to one's authentic voice.
There is no cost to attend this event – and you can join from the comfort of your home or office. ~ For more details or to register, please visit: Holistic Solutions for Anxiety and Depression
*********
I do hope you'll join me for these rich conversations to learn more about holistic approaches to handling stress and overwhelm – and managing anxiety and depression.
There's so much more to life than just increasing its speed!